Initiation - the contact with Naam
Where there is true search for Him, there God extends help. The Almighty commanded to provide whatever His disciple asks for. The Almighty listens to our inner voice that originates from the inns of our heart and not from the brain or tongue. The tiny cries from an ant can reach Him more quickly than the loud trumpeting of an elephant. When there is demand and urge followed by the strong ambition to attain Him, He devises something or other. Many such instances happened.
Sant Kirpal Singh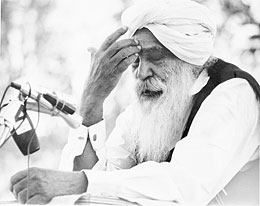 We get this human body only to attain Him and to go back to Him. When God sends the soul into the world, He also fixes the time when to get in contact with the Masterpower. The One Who has sent us into this world, He is residing in everybody. He is always behind us to come to the right place. Only when our face is turned to Him, then the time comes when He takes our hand.
He has contact with us not only by getting the initiation, this connection with Him exists even since He has sent us into this world; the control was already in His hand since then. Our Father simply keeps the rope so loose that He sees how far His child can come, then He is waiting at the door. He always sees our inner condition. When He sees that we are prepared and developed, then He brings us to the field of Naam and sends the message, "O soul, you should get up this time! There is the light of Naam." Then He will distribute it. Those who are awakened this time, they are getting everything.
He gives this message of Naam to everybody equally. It is all for everybody and one should come within and see the beauty of the Father. When we have contact with such a Power – the Almighty Power – it can change our life.
Read more:
Initiation
Deeksha – Initiation
Who is competent to initiate?
Instructions for seekers after truth